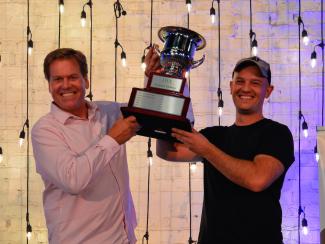 David Vaughan Investments Hosts the 4th Annual Corporate Ping Pong Challenge to Support SSM
On October 12th, David Vaughan Investments hosted the 4th Annual Corporate Challenge. Twenty-two teams from 17 companies competed in a doubles-style ping pong tournament to  determine the Ultimate Corporate Champions of the Greater Peoria Area. After 11 rounds of round-robin play, four teams advance to the finals for the battle of skill and athleticism. Games were hard fought and extremely close, one team had to emerge as the Victors. The 2022 DVI Corporate Champions are father and son duo Tom and Corey Hammerton from OSF!
The DVI Corporate Challenge is one of DVI's major charitable events each year. This year, with the help of our many private donors and corporate sponsors, DVI raised $73,849 for South Side Mission here in Peoria, which brings our 4-year total amount raised to $248,446. This year's donation will go directly to South Side Missions youth ministry expansion. This investment will support the development of new and extended youth programs including new learning areas in culinary and fine arts, better technology access and increased educational, soft-skill and mentoring programs.
We would like to thank all the donors, sponsors, volunteers and players for helping to make this event a success and we hope to see you out on the court in 2023!