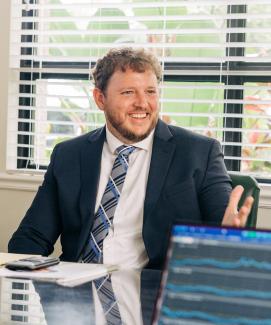 Michael Armistead Joins David Vaughan Investments as Florida Office Relationship Manager
David Vaughan Investments, LLC (DVI) is pleased to announce that Michael Armistead has recently joined the organization as a Relationship Manager in our Winter Park, FL office.
Drawing on more than a decade of experience with Charles Schwab & Co.—most recently serving as a Private Client Advisor to affluent clients—Michael brings with him strong expertise in the design, implementation and oversight of goals-based wealth management plans for more than $350 million of client assets.
"Michael's ability to solve complex investment, tax and estate planning issues are a wonderful addition to DVI," notes Brian Christensen, Senior VP and Partner. "His professional credentials as a Certified Financial Planner (CFP®) and Certified Wealth Strategist (CWS®), add valuable depth to our team of experienced and capable investment professionals."
Michael holds a bachelor's degree from Flagler College (where he also played baseball) and earned his MBA from the University of Central Florida.
Click here for the full press release.